Basket Random
What is Basket Random?
Basket Random is one of the most exciting sports games released in 2020 for basketball fans. Right now, enjoy the relaxing moments in random ways!
This game is built around the traditional basketball rules. So players of all ages can easily understand the rules of the game. Everyone can start playing easily without any difficulty because the goal in the game is no different from the basketball we know. If you love basketball but can't go to the field, enjoy the relaxing moments with Basket Random right now!
The interesting thing about Basket Random is that stickman basketball players have unpredictable moves. That is a completely random setup. The player's character can fall to the ground if they are not properly adjusted. So you need to use the joystick quickly and put the ball into the basket. There will be very funny situations when stickman basketball players jump into the opponent's side.
The game's tasks are extremely simple; you need to put the ball into the basket and try to get more points than your opponent. When your character jumps with the ball in his grasp, he throws the ball in the direction of your cursor. Because the AI opponents are really strong, try to jump high and catch the ball. They have the ability to seize your ball at any point and strike first. So let's get moving in order to hinder the opponent and finish.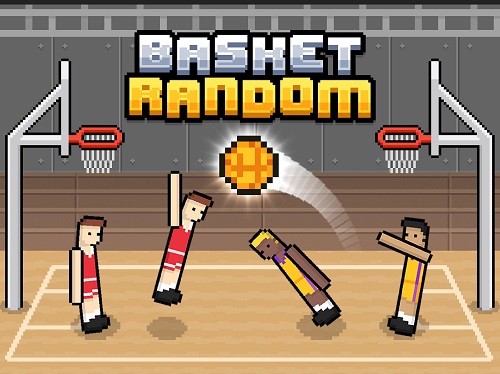 Each round will consist of two teams playing against each other. You can choose a single-player or two-player mode. If you have a friend, you can play with them on the same keyboard. Your leisure time will be so much more enjoyable if your buddies can join you. In Basket Random, whether you're friends, you'll be competing. This is a fight that will not be tolerated. Fight hard to impress your buddies with your pitching abilities.
Not only does it have multiple game modes, but this game also allows you to experience a new space, with new arenas every round, as well as a variety of new athletes and costumes. It could be at the beach on a hot summer day or in the snow on a cold winter day. The matches could take place anywhere. At high levels, players are challenged with different types of balls. Nevertheless, the characters' arms will change as well. It can grow longer or shorter or stronger. As a result, the force acting on the ball will vary with each level. You should be ready to hit the ball in the greatest method possible.
This game is unique due to its simple randomness yet consistent variety at each level. All of that promises to be an interesting entertainment game, helping you to reduce stress after a long day. Are you ready? Let's start the match now. Try to play Basket Random with a click!
How to play Basket Random
You can play solo or play with friends in team mode. To get points, try to jump high and fight with your opponents. Each time you put the ball in the basket, you get one point. The team that reaches 5 points first will be taken to the next level. See now how to use the navigation keys.
Single player mode
Use a "W" key to control. The player will jump up and touch the ball. Now, try to control so that you can put the ball into the basket correctly.
Two players mode
Player 1: Use the "W" key to control
Player 2: Use the "Up arrow" key to control
In two player mode, you need to have good coordination with your teammates. It should be noted that each time you strike the ball, you should prevent allowing it to leave the court. If the ball leaves the playing area, round is ended and all of your efforts in that round are gone.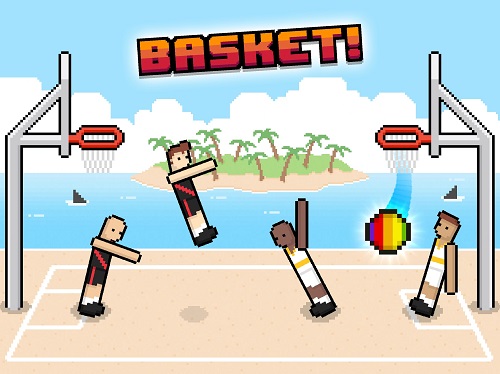 Features
As you know, this game is developed based on basketball, a familiar and famous sport. So you will not feel strange with the features designed in the game. However, what makes this game more attractive than other games of the same genre is the special features that are incorporated. That's why Basket Random has been chosen by many people around the world to experience.
Easy to play
Attractive 2D graphics, various match fields, balls, and characters according to each level
Energetic sound at every level
Basket Random is available on mobile or PC
Top hot games
Don't miss the TOP 5 hottest new games: Basketball Kings 2022, Basketball Legends 2020, Tennis Masters, Football Legends 2021, Pro Billiards. These are games based on popular outdoor sports. Try out the world of online games that give you a new experience.
Those games are completely free and available on PC and smartphones. Play one of those to enjoy space with vivid graphics and sound. This will give you great entertainment time. Click the above to challenge yourself with Basket Random right now!